Product filters
Only show Next Day Delivery
Adapted Covid-19 Staffroom
47 Products
Only show Next Day Delivery
---
It's possible that the staff room has always been viewed as a place of mystery by pupils during their early years at school, a place that's out of bounds and so must surely be a space where all the magic happens?!
In reality it's a place for teachers which provides a communal space where they can pick up a coffee, swap stories with colleagues and build working relationships.
But how will the staffroom space be viewed and used when the schools reopen in September 2020 in light of the Covid-19 pandemic?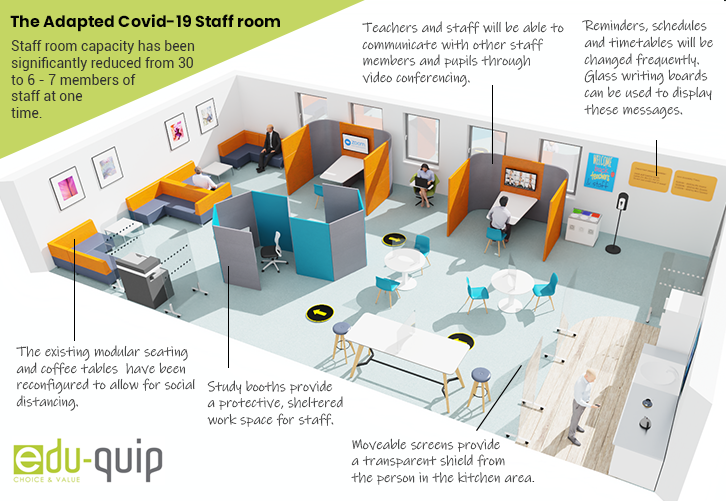 The humble staff room is now a place which needs to be cross examined and risk accessed as it's predominantly a place where adults gather in a relatively confined space meaning that the risk of transmission in this part of the school is relatively high.
It has been claimed by Professor Graham Medley, a government science expert, that:
'Teachers are more likely to catch coronavirus in the staff room than the classroom'.
The data to support these claims showed that the staff room could act as a 'kind of bigger hub of transmission than the classroom'.
The reason for this is apparent as studies have shown that children are less likely than adults to transmit the virus. If children do contract the virus then their symptoms will often be milder or have no symptoms at all compared to adults.
When the education sector return to study spaces, staff rooms in particular will not be fully operational and occupied as they were pre lockdown. There will be restrictions on how many teachers can access and use the staff room at any one time.
In line with the Covid-19 compliant office, classroom and pub restaurant we have looked at the staff room changes that may be embraced by the education sector for the foreseeable future.
So what can we expect?
A significant drop in capacity
Edu-quip spoke to Head of Year at Honition Community College in Devon. She mentioned that their staff room has a capacity for approximately forty people when staff briefings take place and yet this number has been reduced dramatically allowing only six members of staff to use the space at any one time!

In the example above the staff room before had capacity for approximately 30 members of staff. The Adapted Covid-19 classroom allows for 15 members, yet it is likely only 6 or 7 members of staff will be allowed to use the space at any one time, to ensure adequate social distancing.
A reconfiguration in modular seating
Modular seating and sofas are popular in schools and staff rooms with each seat running along a walls length usually forming an L shape with a coffee table in the corner. In the 'Before' staff room we incorporated a twin U-shaped seating system with break out tub chairs facing inwards. Due to social distancing measures we have omitted the breakout tub chairs, two sofas and two coffee tables. Staff can now relax in this area which is laid out to minimise the risk of transmission.

Another factor that we have considered is the cleanability factor of shared modular sofas and cubes. Some modular units are covered in fabrics which tend to hold in heat which creates an environment that encourages growth of microorganisms and bacteria, not something you want to think about whilst relaxing with a cup of coffee.
Antimicrobial fabrics on the other hand have been treated to keep microbes such as bacteria, fungi, and viruses from growing and multiplying within its fibers. Antimicrobial fabrics are incredibly easy to keep clean and maintain. We offer several easy clean seating options such as the Protium Faux Leather Chair and the Plaza Thermoplastic Chair which feature anti-microbial fabric and properties.
Mobile Protection Floor Screens
The 'Before' staff room did not feature any sneeze screens at all adopting an open plan format encouraging collaboration and communication at all levels. The Adapted staff room features DL mobile floor screens which form a visual and protective barrier to the kitchenette and photocopier area. These screens are easy to move as they are on castors so they can be easily reconfigured depending on the levels of protection required. Along with the standard clear glazed screen two other versions are available, one with dot manifestations and one with a letter box slot for passing documents through. Some staff rooms and schools may be embracing a one-way system so these screens can also create a visual barrier between two walkways whilst protecting those either side.

Self-supporting desktop / tabletop screens
Where collaboration or conversation is encouraged or inevitable each participant should be adequately be protected from potentially harmful airborne particles. The self supporting screens that feature in the adapted staff room can simply be placed on to existing table surfaces and ensure that the users are separated from one another without losing out on interaction and visual contact. These screens are 6mm thick and have rounded edges with solid steel supports using anti-slip patches. They also feature a window in the lower section for passing through documentation or files.

Media Study Pods
It's no surprise that the use of video conferencing apps have has soared in the last few months. The video conferencing app Zoom emerged as one of the most popular downloads and was downloaded 2.13 million times on Martch 23rd, the day lockdown was announced in the UK. Unfortunately, there has been concerns when using Zoom for online teaching with the new phenomenon of 'zoombombing'. Unidentified individuals or individuals can hack or dial in to an online lesson and purposely disrupt it with material that's lewd, obscene, racist or antisemtic in nature, which typically results in the shutdown of the session or lesson.
Companies have stepped up their security settings and various organisations have offered comprehensive safeguarding guidance to teachers and parents.
Despite these concerns we feel teachers will still want to communicate (safely) with each other and their pupils so we have introduced two Samba Media Pods to allow and keep these communication channels open.

Study Pods & Study Carrels
With the staff room capacity being reduced significantly we think that staff will be able to focus more on work based tasks and potentially engage in more health and wellbeing based exercises such as meditation or mindfulness to remain relaxed and calm. In order to do this we have featured some hive / honeycomb study carrels which feature thick chunky acoustic panels offering good levels of stability and noise protection, ideal for tasks which require concentration whilst offering high levels of protection.

The Future of Staffrooms
If it's been some time since you were nervously standing outside your schools staff room, waiting to hand in an overdue assignment,  you may be surprised to learn that since 2012 staff rooms are no longer necessary or required.
In 2012 amendments were made to The Education (School Premises) Regulations 1996, which implemented that schools are no longer obligated to provide 'accommodation for use by the teachers at school, for the purpose of work and for social purposes. Some schools and academies are now choosing not to have a staffroom at all which may stem from some academies being anti-union, discouraging teachers from talking among themselves.
Many schools and colleges are now preferring to do away with the main staff room altogether and have multiple staff rooms for different departments and subject zones – for example, the green zone is for maths and science. Each zone has several staff work areas and each department has a breakout space which staff can use for working and socializing.
In some instances, this has proved better than having one staff room as work zones focus on collaborative work between teams and departments. Staff are spread evenly around the school allowing for a calmer environment for pupils who wish to approach their teachers on more of a one to one level.
Acoustic Hubs and pods have recently worked their way in to schools and academies who adopt this approach as they are essentially private areas in a large open plan space allowing better visibility for both teacher and pupil making learning a little more accessible.
There are however downsides and concerns are sometimes raised about how this approach prevents teachers and staff from socializing across the complete board. This can be easily rectified however by ensuring staff have regular meetings and get togethers, a bit like you would have in a larger private corporation.
Not all schools will be able to break up or eliminate the staff room, perhaps due to costs and practicalities. Also, the establishments which already have staffrooms will no doubt want to retain them as they realize the value they provide to teachers and staff.
There are many news features about teachers being stressed and some may not appreciate the open nature of these new satellite work / relax hubs. By taking away the staff room altogether could have a detrimental effect on teacher's health and wellbeing as it suggests that the teachers do not need to rest or have any privacy.
The staff room will no doubt be a focus for more schools as we approach the new term in September and perhaps it is a good time for schools to think about the importance and function of the staff room? How it will be used in the short term and more importantly the long term? We hope the suggestions above are helpful and would be happy to discuss and ideas or plans you may have in the pipeline for your staffroom.